One-Time Construction Loan
Construction Loan
Click here to inquire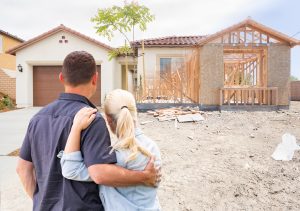 One-Time Close
For manufactured, modular, and stick-built properties: finance the construction, lot purchase and permanent mortgage all with a single loan. No re-qualification. No second appraisal.
More About One-Time Close
Why worry about re-qualifying or incurring additional costs? Designed for manufactured, modular, and stick-built housing, this program offers an all-in-one financing option for construction, lot purchase, and permanent mortgage funding with one closing. Because the permanent loan is closed before construction begins, there is no need to re-qualify the borrower, simplifying the construction and purchase process. Get the construction loan you deserve!
Financing Eligibility
Financing Options: Conventional, FHA, USDA, and VA
Maximum Loan-To-Value (LTV):

FHA: 96.5%
USDA: 100%
VA: 100% of market value
Conventional: 90%
620 minimum qualifying credit score
Eligible Terms
FHA: 15 and 30 year fully amortized fixed
USDA: 30 year fully amortized fixed
VA: 15 and 30 year full amortized fixed
Conventional: 15 and 30 year full amortized fixed
Construction Loan Offered
VA Loan – 0% Down Payment
USDA Loan – 0% Down Payment
FHA Loan – 3.5% Down Payment
Conventional Loan – Minimum 10% Down Payment
Eligible Property Types
FHA: New multi-wide manufactured housing, modular housing, 1-unit stick-built housing
USDA: new multi-wide manufactured housing, modular housing, 1-unit stick-built housing
VA: new multi-wide manufactured housing, modular housing, 1-unit stick-built housing
Conventional: new multi-wide manufactured housing, modular housing, 1-unit stick-built housing
Program Highlights
Option for no payments due from borrower during construction
Option for construction interest to be paid by borrower (available in FHA and USDA programs)
No re-qualification once construction is complete
Single closing reduces total costs
Realtor commission generally paid-in-full at closing (prior to construction commencing)
Single Construction Admin Fee
This fee includes:
Interest
Draw Inspections
Closing Coordination
Underwriting
Title Updates